Africa Bible Fund
The Africa Bible Fund is an opportunity to bridge the capital gap and cover the costs of printing and distributing Bibles to equip the vibrant church in Africa. Many like Pastor Luke from Malawi (right) only own a worn and torn one.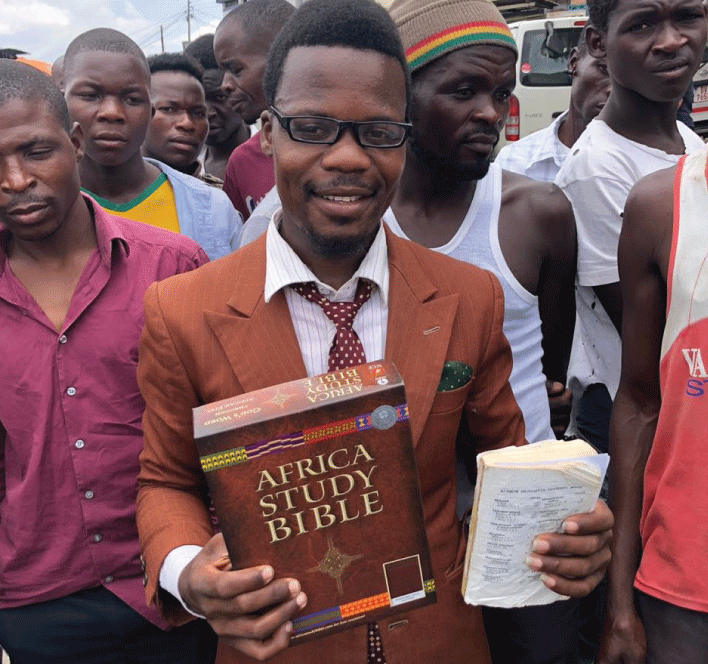 YOUR IMPACT: A CONSTANT SUPPLY OF BIBLES
With the needed stimulus capital in place, Africa Study Bibles, NLT Bibles, and
culturally relevant books will be available for the church in Africa. The virtuous cycle leads to a sustainable supply of Bibles.
The Africa Bible Fund pools stimulus capital through investment and direct donation to supply more Bibles.
Bible Publishing has a long product development and manufacturing process and requires access to inventory financing for the cost of goods.
The Africa Bible Fund bridges the 9–18-month period from manufacturing to when a customer makes payment.
Gifts into the Africa Bible Fund cover the costs of printing and distributing Bibles on an ongoing basis. The larger the print-runs the more affordable our Christian books and Bibles can be which allows income to go back into Oasis accomplishing its mission and supporting its partners. In other words, the proceeds from sales are rolled back into the Fund, thus the virtuous cycle continues.
In a rural Nigerian village, God's Spirit has been at work in Pastor Mark, Esther, and Claire…
Complete the form below to be contacted for investment opportunity options.
Frequently Asked Questions
What need does the Africa Bible Fund (ABF) address?

650 million Christians in Africa lack access to the Bibles and books they need to grow their faith. An estimated 400+ million of these believers read in English, French, and Portuguese, approximately 250 million of whom are without a Bible. Oasis believes that the best long-term solution to Africa's Bible poverty can be found by using sound business principles to distribute Bibles. The needs are too great to be supplied by giving away Bibles.

The Africa Bible Fund capitalizes the printing of books and Bibles. It pays for the advanced capital requirements of cost of goods sold (COGS), which includes shipping, clearing, warehousing, royalty, and the like. It supports large orders from partners such as school ministry partners, Bible societies, denominations, and teaching and training institutions for the manufacturing of Bibles, Bible-related teaching materials, and other Christian literature.

The Africa Bible Fund is established as a Board Designated Fund under the management of the Oasis Board of Directors' Finance Committee.

Is this an actual investment fund?

No, it is a philanthropic fund. "Investment" in the fund is made in outright gifts or grants from DAFs and foundation endowments. Grant investments are unique in that they yield a semi-annual dividend which can be used to subsidize the purchase of Bibles for students and leaders with limited funds or can be returnable under qualifying circumstances.

What is the fund's target size?

$3 million by the end of 2024 to finance the expected growth in Bible distribution demands in Africa.

What happens in the event of a financial failure?

Africa is a continent of economic hardship, political instability, and difficulty in conducting business. Oasis works in some very hard places. This is why the fund only accepts charitable contributions and grants. Its purpose is to allow investment where there is great need. The Oasis finance committee will have the power to compensate for losses as needed, reducing the size of the fund. For example, this may occur in the case of loss of inventory in unforeseen circumstances.

What is the Quadruple Bottom Line for your investment?

Discipleship Impact: The Africa Bible Fund invests directly in discipleship.

Every investment in the Africa Bible Fund is used to print and distribute a book or Bible that contains the transforming message of the gospel.
Hundreds of churches, child sponsorship agencies, and schools currently buy Bibles and books for Christian discipleship in Africa.
Only African voices that empower discipleship are published, so they are contextually appropriate and created to have maximum impact for the specific needs of Africa.

 

Scale and Financial Sustainability: Sales of materials and Bibles create a self-sustaining flywheel that multiplies impact.

No one can give away enough Bibles to meet the needs.
Only way to solve the discipleship crisis is with sustainable investment in the products Africans want.
Proceeds from sales provide for reprints, support sales and editorial teams, and support African-led organizations and ministries.
Quality, affordable resources available at regional distribution hubs.

 

Economic Development: The economic impact is in Africa!

African-owned businesses and ministries warehouse and distribute the Bibles, making income from sales.
Those leading the distribution effort are Africa-focused, with the marketing, editorial, and sales teams based in Africa, employing and training Africans to serve their own regions.
African-led ministries and churches help support their work by selling books that change lives.

 

Impact Investment: The Return on Investment creates further impact.

Return can be used to finance Bibles for leaders and students in poverty.
Charitable priorities can be funded with a 3% targeted yearly return.
If the fund has excess capacity, principle can be returned if desired.

 

That is the Africa Bible Fund's quadruple bottom line­ — a powerful and unique tool that can help transform millions of lives across Africa.