Oasis Team
Matthew Elliott, President

Matthew has led Oasis for over two decades. He has a BA in Economics and MA in New Testament Studies from Wheaton College, and a MT in New Testament and PhD in New Testament from University of Aberdeen and was ordained at College Church in Wheaton, Illinois. He is the author of Faithful Feelings: Rethinking Emotion in the New Testament (InterVarsity UK/Kregel) and Feel (Tyndale House).

Matthew and his wife, Laura, have three children and live outside the Blue Ridge mountains of North Georgia.

Jeremy Johnson, Executive Vice President

Jeremy is a 30+ year veteran of the global printing and publishing industry, he is dedicated to equipping God's people with the Bible and life-changing resources that they may be complete and prepared for every good work (2 Tim 3:17). He is responsible for sales, marketing, the various aspects of publishing, and provides financial and operational support for Oasis.

Jeremy lives in Nashville, TN with his wife, Amy, and three children.

Vincent Tinashe Bosha, Africa Sales Manager and Southern Africa Regional Director

Vincent serves as the Africa Sales Manager and Southern Africa Regional Director with extensive experience in international Sales and Marketing management. Having studied in the US and Zimbabwe, he has an academic background in Business Studies, Marketing Management, and Business Administration. With a passion to see spiritual growth in the young generation, Vincent has been serving the youth in his community for over 5 years. 

Vincent and his family live in South Africa.

Natalie Cameron, Executive Assistant

Natalie is responsible for organizing and coordinating the executive team's schedules, the Board of Directors, and all staff events. She has over two decades of experience in ministry as seen through her time serving in various professional and volunteer roles in office settings and through worship, women's, and children's ministries. She has a BA in Psychology with a minor in Bible from Azusa Pacific University, USA.

Natalie lives in the Chicago area with her husband and two kids.

Michelle Keith, Full-Charge Bookkeeper

Michelle is responsible for the bookkeeping aspects of the organization. She has over two decades of experience in accounting and office management in the private and banking sector. She graduated with a Bachelor of Science in Business Information Technology with an emphasis in Accounting. She is currently pursuing her Master of Science degree in Business Analytics. 

Michelle and her husband, Lath, live with their four children in Montana.

Tricia Kok, Marketing Manager

Tricia holds a Bachelor's degree in Marketing and Psychology and she brings a unique blend of expertise to the table. With over 12 years marketing experience, she has honed her skills in marketing, gaining valuable experience in crafting and executing effective strategies across various industries and in different countries. She is also deeply committed to nurturing and expanding the global church community, with a special emphasis on cultivating meaningful connections within the youth and kids ministry. Her dedication to fostering a sense of belonging and purpose among the younger generation has been a driving force in her life.

Tricia is based in Cape Town, South Africa and she finds joy in her role as a parent of three wonderful children.

Tammy Martin, Operations Manager

Tammy is responsible for maintaining various information systems that track inventory, and royalty payments. These systems help deploy Oasis titles across multiple distribution channels. She has more than two decades of experience in office administration and management.

Tammy and her husband Joe live in the Nashville, TN area and have two children and three grandchildren.

Alyssa Misuraca, Global Partnerships Administrative Assistant

Alyssa is responsible for coordinating and supporting the fundraising Vice President for Global Partnerships, North America. Her experience includes several professional roles in churches and schools as well as serving on several ministries (marriage/couples, family, Mothers of Preschoolers (MOPS), data analysis team). Alyssa was born and raised in Michigan and moved to Arizona with her family for her husband's job. Alyssa is currently active in Elevation Church online.

Alyssa and her husband, Tom, currently reside in California. They have two grown children (Taylor (son) & Niki (daughter)) and just recently gained a much loved daughter-in-law (Alyssa). 

Rabin Mutai, Digital Marketing Coordinator

Rabin is a graduate from Moi University in Eldoret, Kenya where he studied communications, graphic design, and advertising. He has four years experience as a graphic designer, communication expert, and social media marketer with a passion for Christ. He was a member of and led the Christian Union in high school, and enjoys reading, swimming, and nature walks in his down time.

Rabin was born and grew up in Kericho, Kenya and currently lives and works from Nairobi.

Steve Nelson, Vice President for Global Partnerships, North America

Steve has been leading and managing teams who are tackling social problems with business solutions for over 25 years. Prior to Oasis, Steve recruited companies to join the Center for Higher Ambition Leadership, and served on the leadership team with Opportunity International.

Steve, his wife Sharon, and their four children reside in the Chicago area.

Malele Ngalu, Regional Director, East Africa

Malele has more than 15 years of leadership experience in multiple roles in both corporate and start-up markets across East Africa. He brings to Oasis more than 12 years of regional sales experience having led various sales managers maximise revenues across multiple industries in the region. Malele is passionate about discipleship of God's people across Africa and has dedicated his time to walk with young believers in his church.

Malele is married, their family is blessed with three boys and they reside in Nairobi.

Boka Nyachieo-Ngumba, Communications Director

Boka has over 15 years' experience in developing, implementing, and managing communications strategies in Kenya and the East Africa region. She studied communications and musical theatre at Palm Beach Atlantic University, Florida. 

Boka lives in Nairobi with her husband, Irungu, and their beautiful daughter, Malindi. She also has an amazing step-son, Ethan.

Sola Onifade, Regional Director, West Africa

Sola graduated from Lagos State University, Nigeria where he served as the President of the Student Campus Fellowship. More so, he has Post-graduate Diploma in Theology from the Redeemed Christian Bible College in Nigeria, and has Project Management Professional (PMP) and Strategy Business Development Professional (SBDP) certifications from CPD Standards, United Kingdom. He is experienced in discipleship and missions, and is well connected to church leaders throughout the West Africa. He was a presenter of the daily inspirational Radio program - 'Purposeful Living' in Nigeria.

 

Sola and his family currently live in Lagos, Nigeria.

Hannah Rasmussen, Acquisitions Editor

Hannah grew up as a missionary kid in Tanzania and Kenya and is passionate about empowering African voices. She studied English and Sociology at Macalester College, and has an MA in Biblical Studies from Africa International University, Kenya. Hannah was an editorial manager of the Africa Study Bible and is the author of Good News about Gender: A Bible Study for Young Adults.

She is active in her local church in Minnesota, where she currently lives.

Kimberly Shell, Editorial Director

Kimberly is responsible for maintaining world-class quality for Oasis books and Bibles and for growing the Africa-based editorial teams. She has more than 20 years' experience in the publishing industry in writing, editing, designing, managing, and preproduction work. Her specialty is Bible publishing, and she has worked on books and Bibles in over 60 languages crossing all of the world's inhabited continents. Kimberly earned her Bachelor of Journalism degree from the University of Missouri-Columbia, but soon found Christian publishing best served her calling for making God's Word and foundational discipleship material accessible to all people. She is excited to facilitate bringing the messages of African authors to the world.

Kimberly travels as often as possible but makes her home base in southwest Missouri near her beloved parents.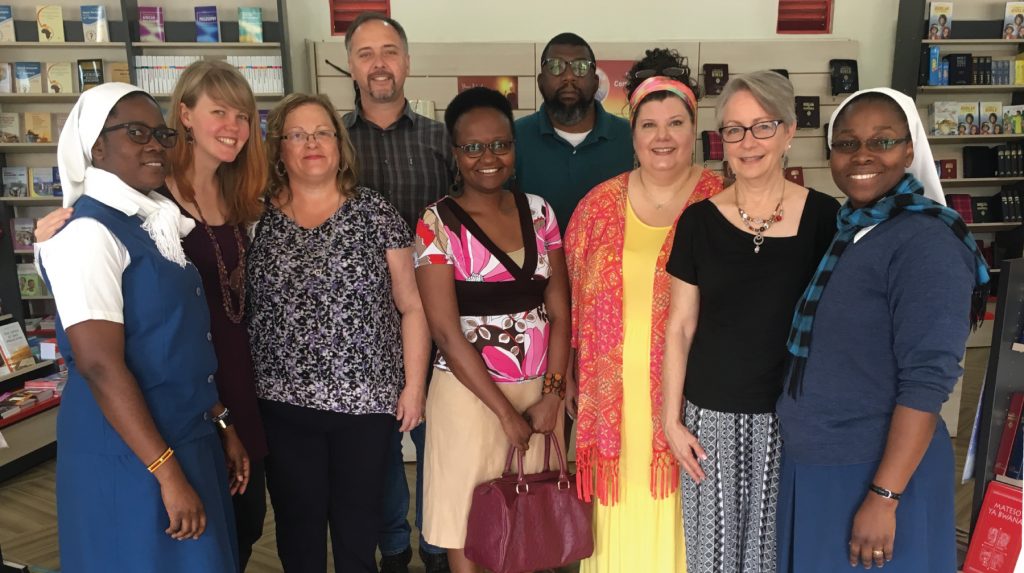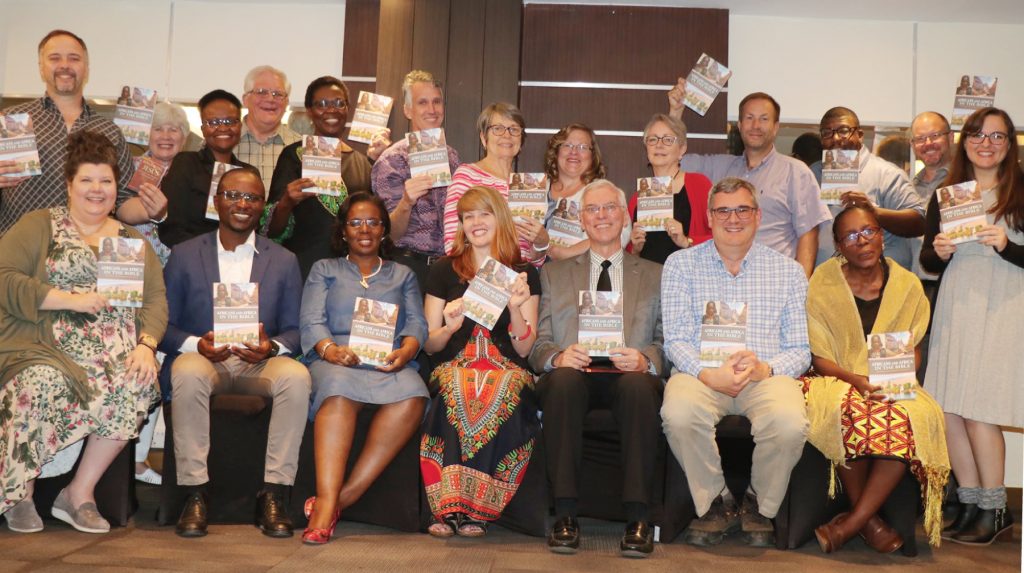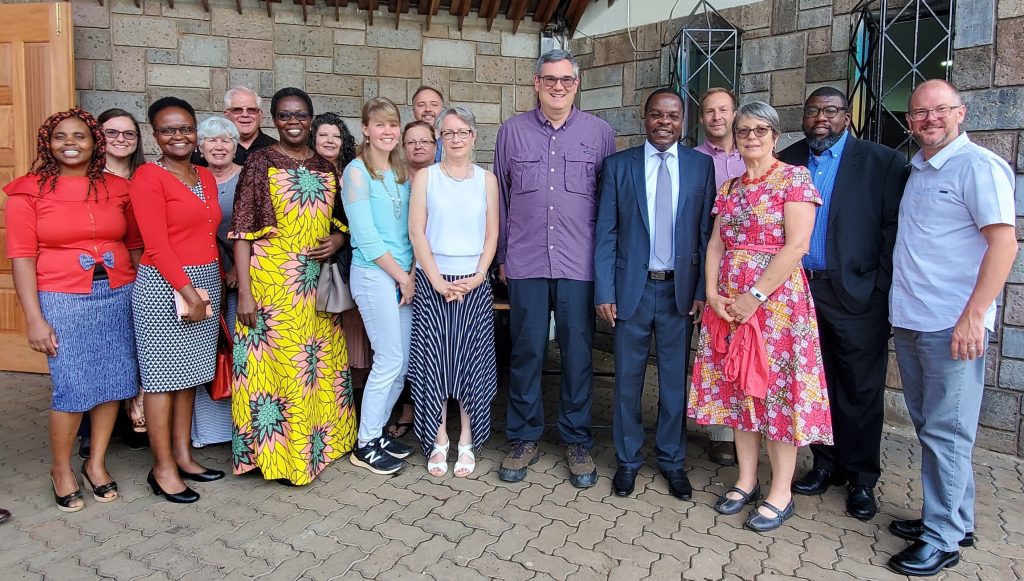 Modupe Ehirim, Board Member of Oasis, and Founder and Marriage Coach at The Right Fit Marriage Academy, and former President of Christian Booksellers Association of Nigeria and Hidden Treasures Bookstore
Edward Elliott, Board Member of Oasis, and Co-Founder of Oasis
Matthew Elliott, Board Member of Oasis, and President of Oasis
John Feyerer, Treasurer of Oasis, and Vice President and Director of Invesco PowerShares
Paul Mpindi, Board Member of Oasis, and Executive Director of Mission French Africa Ministries
Janice Muchai, Board Member of Oasis, and a Leadership and Management professional with Tume Middle Africa Consulting
Steve Potratz, Vice Chair of Oasis, and Founder and former CEO of The Parable Group
C. Jeffrey Wright, Secretary of Oasis, and CEO of Urban Ministries, Inc.
These dedicated people have spent a decade or more volunteering their time and talent to Oasis's mission and vision. Their wisdom, leadership, and service has greatly helped us be effective in publishing to equip discipleship across Africa and the world. With great appreciation and thanks (listed alphabetically):
Brian and Elaine Anderson,
Oasis Distributions Nigeria Managing Director (Brian), planted and watered the fledgling ministry as master gardeners with love and devotion for Nigeria and its people.
Craig and Beth Ewoldt,
Oasis Distributions Nigeria Managing Director (Craig), faithfully served in Jos Nigeria building the ministry and mentoring our leaders with great perseverance and dedication.
Steve Nelson,
board member and Oasis's Vice President of Global Partnerships, has gifted Oasis with invaluable expertise. His heart for the global church and passion for excellence in business has taken Oasis to the next level in sales and development.
C. Jeff Wright,
of Urban Ministries Inc (UMI), board member, brings excellent advice and wisdom into every meeting. Jeff is a powerful advocate for African leaders having a prominent voice in the global church. UMI's partnership with the Africa Study Bible has been a great encouragement, empowering it to minister to the African American community.
Virginia Elliott,
board member, co-founded Oasis with her husband Edward Elliott in 1978. We can safely say that without her faith, encouragement, generosity, and steadfastness over the years Oasis would have never begun and never continued through the hard times.
Tim Martins,
board member, as CEO of Barbour Publishing was instrumental in Oasis's development and growth as an organization - especially in the areas of business, publishing, management, and development of the Africa Study Bible.
Steve Potratz,
board member, as founder of Parable, faithfully taught us about Christian retail, finance, marketing, and strategic planning. As friend and mentor, everything at Oasis was improved because of Steve!
Edward Elliott,
board member, co-founded Oasis with his wife Virginia Elliott in 1978. His vision and heart for Africa is what drove Oasis's founding. His dedication to serving the global church has impacted Oasis's core values and our staff more than we could ever express. His legacy will forever influence our ministry and lives.
Paul Mouw,
full-time advocate and volunteer, came alongside us just when we needed it the most- to help complete the Africa Study Bible. As a communications and publishing "Professor" and expert from Judson University, Paul led, organized, served, and contributed in more ways than we can count.
Prof. Tite Tienou,
of Trinity Evangelical Divinity School, board member and chair, led the board through the crucial transition to becoming a publisher for Africa, including chairing the "Founding Committee of the Africa Study Bible." His wisdom, godliness and African knowledge will inform our books and our culture far into the future.
Help us Satisfy Africa's Thirst for God's Word.