Oasis Team
Matthew Elliott, President

Matthew has led Oasis for over two decades. He has a BA in Economics and MA in New Testament Studies from Wheaton College, and a MT in New Testament and PhD in New Testament from University of Aberdeen and was ordained at College Church in Wheaton, Illinois.

He is the author of Faithful Feelings: Rethinking Emotion in the New Testament (InterVarsity UK/Kregel) and Feel (Tyndale House). Matthew, his wife, Laura, and three children reside in the Chicago area.

Jeremy Johnson, Executive Vice President

Jeremy is a 30+ year veteran of the global printing and publishing industry, he is dedicated to equipping God's people with the Bible and life-changing resources that they may be complete and prepared for every good work (2 Tim 3:17).

He is responsible for sales, marketing, the various aspects of publishing, and provides financial and operational support for Oasis. Jeremy lives in Nashville, TN with his wife, Amy and three children.

Natalie Cameron, Executive Assistant

Natalie is responsible for organizing and coordinating the executive team and Board of Director's schedules, team events, and donation processing. She has years of experience in ministry both personally and professionally as seen through her time serving in various roles at church, in office settings, and through worship and children's ministries. She has a BA in Psychology from Azusa Pacific University and lives with her husband Bradley and son Samuel in the Chicago area.

Nyambura Kamau, Regional Director, East Africa

Nyambura preaches and teaches at her local church and is passionate about developing contextualized biblical discipleship resources that root Christians in their faith. Nyambura has a Post Graduate Diploma in Christian Studies from Regent College, Canada and a BA in Management Studies from Moi University, Kenya.

Michelle Keith, Full-Charge Bookkeeper

Michelle is responsible for the bookkeeping aspects of the organization. She has over two decades of experience in accounting and office management in the private and banking sector. She graduated with a Bachelor of Science in Business Information Technology with an emphasis in Accounting. She is currently pursuing her Master of Science degree in Business Analytics. 

Michelle and her husband, Lath, live with their four children in Montana.

Tammy Martin, Finance and Operations Manager

Tammy is responsible for maintaining various information systems that track inventory, and royalty payments. These systems help deploy Oasis titles across multiple distribution channels. She has more than two decades of experience in office administration and management.

Tammy and her husband Joe live in the Nashville, TN area and have two children and three grandchildren.

Steve Nelson, Vice President, Global Partnerships

Steve has been leading and managing teams who are tackling social problems with business solutions for over 25 years. Prior to Oasis, Steve recruited companies to join the Center for Higher Ambition Leadership, and served on the leadership team with Opportunity International.

Steve, his wife Sharon, and their four children reside in the Chicago area.

Zandré van der Nest, Regional Director, Southern Africa

Zandré serves as the Regional Director in Southern Africa for Oasis International. He completed his studies in Financial and Investment Planning in Johannesburg. He is experienced in ministry, supported by a network of organizations and church leaders. In addition to his primary functions to church development, Zandré is committed to further reach the church in Africa by partnering with organizations to satisfy Africa's thirst for God's Word. Zandré currently lives in Pretoria, the capital city of South-Africa.

Boka Nyachieo-Ngumba, Communications and Marketing Manager

Boka has over ten years' experience in developing, implementing and managing communications strategies in Kenya and the East Africa region. She studied communications and musical theatre at Palm Beach Atlantic University, Florida. 

Boka lives in Nairobi with her husband, Irungu, and their beautiful daughter, Malindi. She also has an amazing step-son, Ethan.

Sola Onifade, Regional Director, West Africa

Sola serves as Regional Director, West Africa for Oasis International. He graduated from Lagos State University where he served as the President of the Student Campus Fellowship. More so, he has Post-graduate Diploma in Theology from the Redeemed Christian Bible College, and Project Management Professional (PMP) and Strategy Business Development Professional (SBDP) certifications from CPD Standards, United Kingdom. He is experienced in discipleship and missions, and is well connected to church leaders. He was a Presenter of the daily inspirational Radio programme - 'Purposeful Living' in Nigeria. Sola and his family currently live in Lagos, Nigeria.

Hannah Rasmussen, Acquisitions Editor

Hannah grew up as a missionary kid in Tanzania and Kenya. She studied English and Sociology at Macalester College, and is pursuing an MA in Biblical Studies part-time at Africa International University in Nairobi.

Hannah was an editorial manager of the Africa Study Bible and is the author of Good News about Gender: A Bible Study for Young Adults.

Christo van der Schyff, Director: African Operations

Christo has a career spanning both corporate and nonprofit management, with the decade prior to joining Oasis International on staff focused on leadership development and Scripture distribution. He is a qualified management accountant, having completed post graduate studies in both accounting and general management. He lives in George, South Africa with his wife and two boys.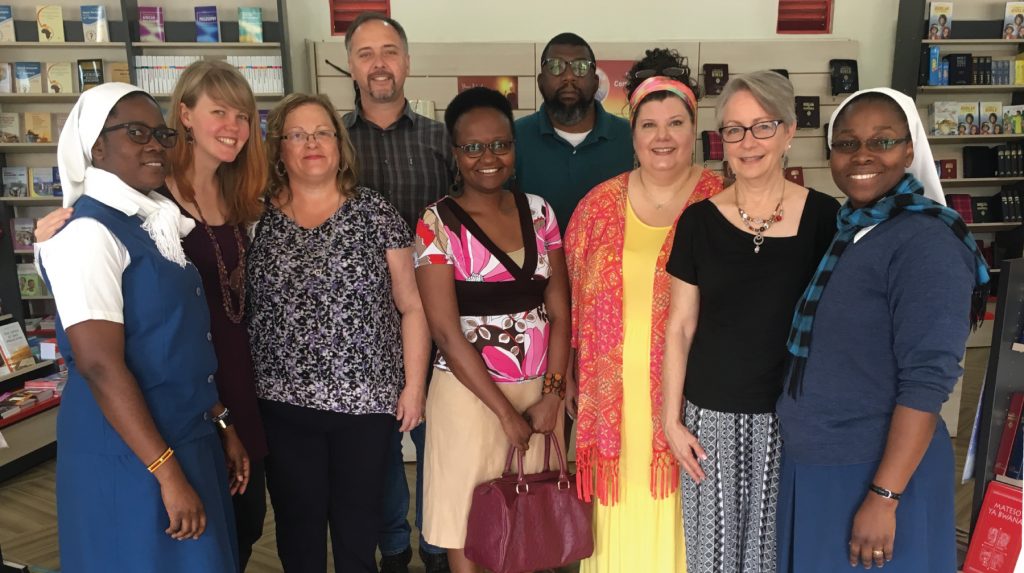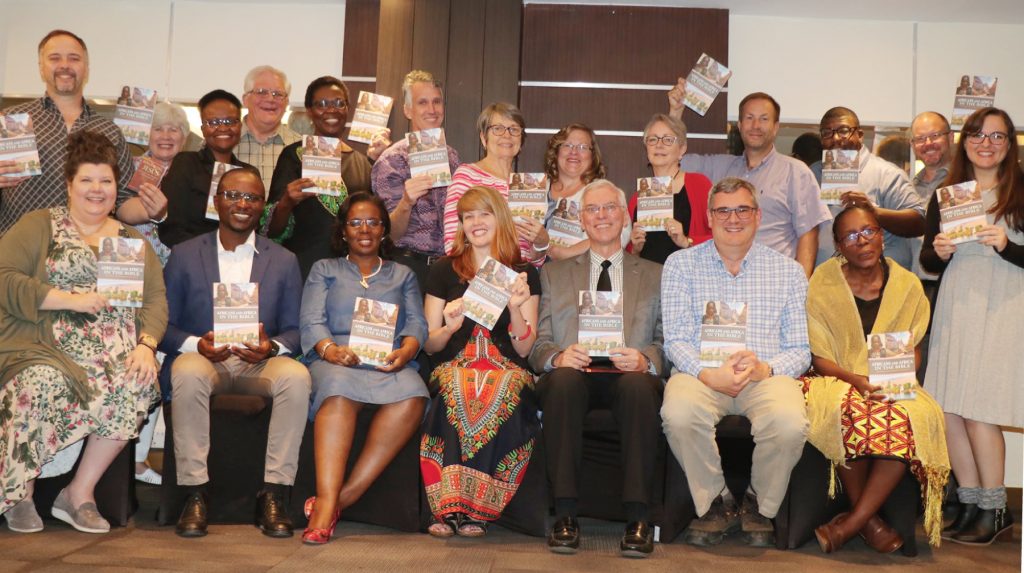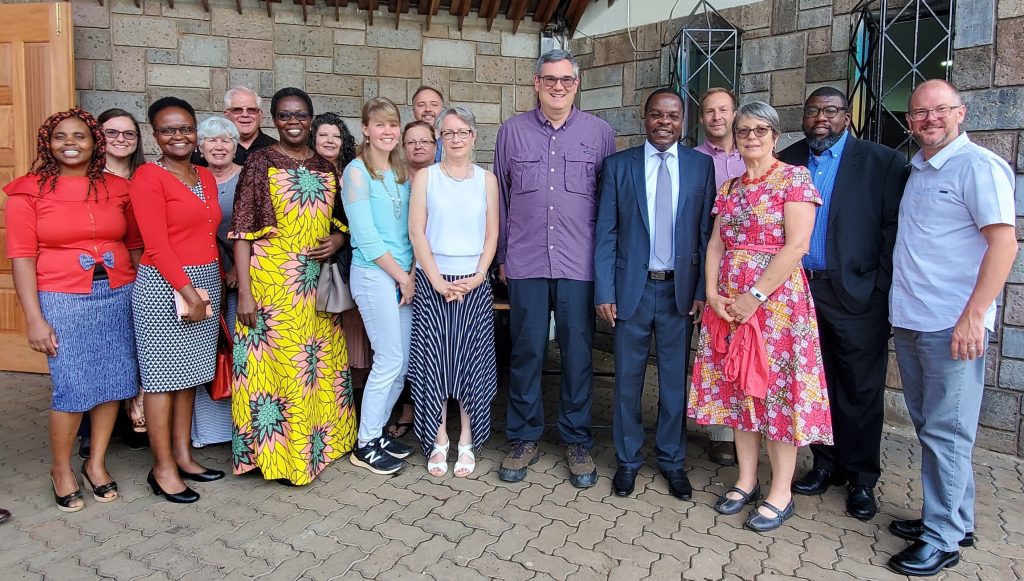 Dean Merrill, Chair, and best-selling author, editor, and publisher
Modupe Ehirim, Board Member of Oasis, and Founder and Marriage Coach at The Right Fit Marriage Academy, and former President of Christian Booksellers Association of Nigeria and Hidden Treasures Bookstore
Edward Elliott, Vice Chair and Co-Founder of Oasis
Matthew Elliott, Board Member of Oasis, and President of Oasis
John Feyerer, Treasurer of Oasis, and Vice President and Director of Invesco PowerShares
Paul Mpindi, Board Member of Oasis, and Executive Director of Mission French Africa Ministries
Janice Muchai, Board Member of Oasis, and a Leadership and Management professional with Tume Middle Africa Consulting
Steve Nelson, Secretary of Oasis, and Vice President, Global Partnerships at Oasis
C. Jeffrey Wright, Board Member of Oasis, and CEO of Urban Ministries, Inc.
These dedicated people have spent a decade or more volunteering their time and talent to Oasis's mission and vision. Their wisdom, leadership, and service has greatly helped us be effective in publishing to equip discipleship across Africa and the world. With great appreciation and thanks (listed alphabetically):
Brian and Elaine Anderson,
Oasis Distributions Nigeria Managing Director (Brian), planted and watered the fledgling ministry as master gardeners with love and devotion for Nigeria and its people.
Craig and Beth Ewoldt,
Oasis Distributions Nigeria Managing Director (Craig), faithfully served in Jos Nigeria building the ministry and mentoring our leaders with great perseverance and dedication.
Steve Nelson,
board member and Oasis's Vice President of Global Partnerships, has gifted Oasis with invaluable expertise. His heart for the global church and passion for excellence in business has taken Oasis to the next level in sales and development.
C. Jeff Wright,
of Urban Ministries Inc (UMI), board member, brings excellent advice and wisdom into every meeting. Jeff is a powerful advocate for African leaders having a prominent voice in the global church. UMI's partnership with the Africa Study Bible has been a great encouragement, empowering it to minister to the African American community.
Virginia Elliott,
board member, co-founded Oasis with her husband Edward Elliott in 1978. We can safely say that without her faith, encouragement, generosity, and steadfastness over the years Oasis would have never begun and never continued through the hard times.
Tim Martins,
board member, as CEO of Barbour Publishing was instrumental in Oasis's development and growth as an organization - especially in the areas of business, publishing, management, and development of the Africa Study Bible.
Steve Potratz,
board member, as founder of Parable, faithfully taught us about Christian retail, finance, marketing, and strategic planning. As friend and mentor, everything at Oasis was improved because of Steve!
Edward Elliott,
board member, co-founded Oasis with his wife Virginia Elliott in 1978. His vision and heart for Africa is what drove Oasis's founding. His dedication to serving the global church has impacted Oasis's core values and our staff more than we could ever express. His legacy will forever influence our ministry and lives.
Paul Mouw,
full-time advocate and volunteer, came alongside us just when we needed it the most- to help complete the Africa Study Bible. As a communications and publishing "Professor" and expert from Judson University, Paul led, organized, served, and contributed in more ways than we can count.
Prof. Tite Tienou,
of Trinity Evangelical Divinity School, board member and chair, led the board through the crucial transition to becoming a publisher for Africa, including chairing the "Founding Committee of the Africa Study Bible." His wisdom, godliness and African knowledge will inform our books and our culture far into the future.
Help us Satisfy Africa's Thirst for God's Word.