God, the Craftsman of Our Nature: A Reflection of Psalm 139
Inspired by the Africa Study Bible
---
Psalm 139 is a psalm of David. David's personality and recognisable sound as a psalmist are clear here. David's attitude in Psalm 139 is admirable because he chose to thank God for fully knowing him and watching all that he does. The truth that God knows each and every one of us on such a deep, personal level is disturbing to some. David had the ability to think differently about God's divine presence and omniscience, but he modeled the appropriate behaviour by admiring and appreciating God's ability to hear, see, and know us like no one else can.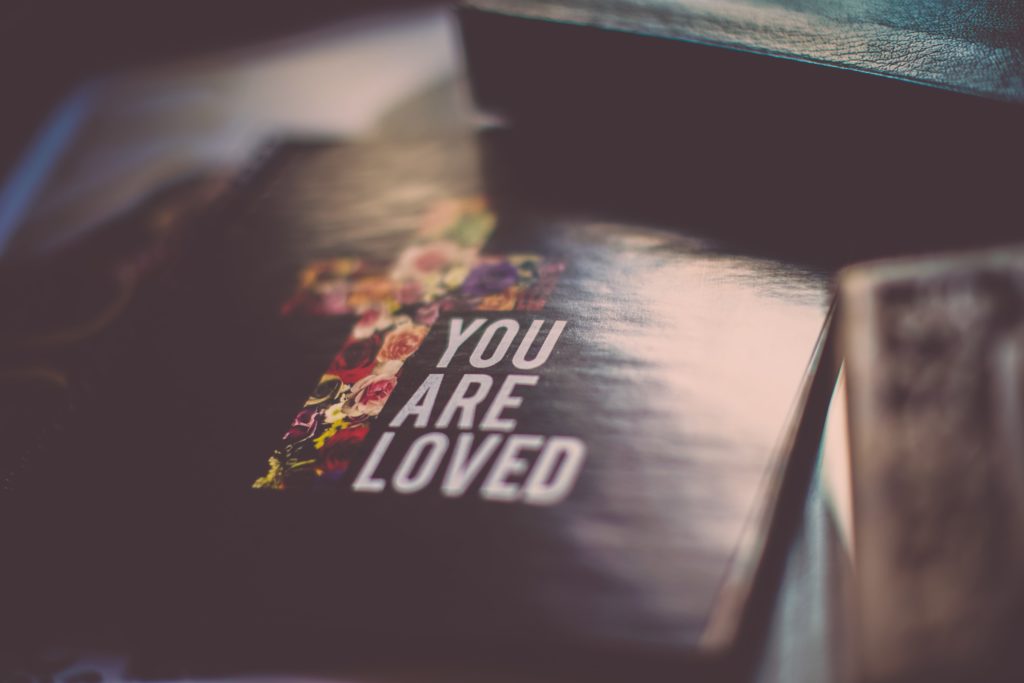 This thought is frightening to some who are more private people. There is nothing wrong with being a private person, except when it comes to God. It is common for a person to never share the full version of themselves. However, God has a deep desire for us to want to know him as much as he wants to know us. He wants to deepen the connection every day (Psalm 139:9-10). He wants us to take actions that will bring him closer to us. He wants to be our immediate go-to, best friend, and lifeline.
1 O Lord, you have examined my heart
and know everything about me.
2 You know when I sit down or stand up.
You know my thoughts even when I'm far away.
3 You see me when I travel
and when I rest at home.
You know everything I do.
4 You know what I am going to say
even before I say it, Lord.
5 You go before me and follow me.
You place your hand of blessing on my head.
6 Such knowledge is too wonderful for me,
too great for me to understand!
7 I can never escape from your Spirit!
I can never get away from your presence!
8 If I go up to heaven, you are there;
if I go down to the grave,[a] you are there.
9 If I ride the wings of the morning,
if I dwell by the farthest oceans,
10 even there your hand will guide me,
and your strength will support me.
11 I could ask the darkness to hide me
and the light around me to become night—
12 but even in darkness I cannot hide from you.
To you the night shines as bright as day.
Darkness and light are the same to you.
David thanks God for the special relationship that they share because David felt safe and secure in God. God gave him comfort during the worst times of his life, which we can read about in several other psalms authored by David. In Psalm 139, David pointed out that God does not condemn, he blesses (5, 17). He sees every dirty, messy, crazy part of our life – even when we don't bring it to him. God could condemn us for the mess that he sees, but he delights in his creatures and continues to pursue a relationship with us. An Application note from Psalm 139 of the Africa Study Bible says that it is useless to try to hide our thoughts, our actions, or desires from God (1-3, 7). God already knows what we will do, think, or say before it happens (4, 16). It is best to bring everything to him in order for healing to begin. God doesn't want us to think that we have to hide. He proves that to us by his character.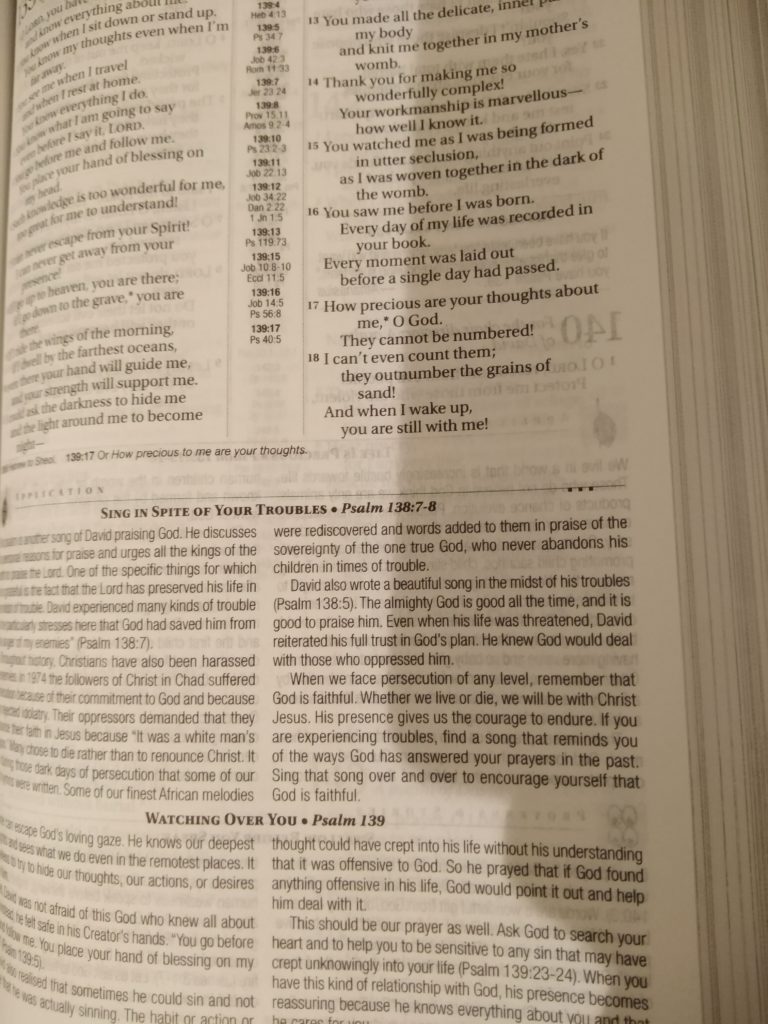 Because God, the craftsman of our nature (13-16), knows better than we know ourselves, he holds a divine perspective that we do not have. He sees things that we cannot see. He is aware of things within us that sometimes, we ourselves are not aware of. In the last few verses of Psalm 139, David asks God to point out any unknown sin in his life so that he could repent. David asks God to know his thoughts so that God could highlight areas of his life that need improvement (verses 23-24). This should be our prayer and desire as well, that God would show us what needs adjustment in order to improve our walk with him. Sin gets in the way and holds us back from fully experiencing God.
13 You made all the delicate, inner parts of my body
and knit me together in my mother's womb.
14 Thank you for making me so wonderfully complex!
Your workmanship is marvelous—how well I know it.
15 You watched me as I was being formed in utter seclusion,
as I was woven together in the dark of the womb.
16 You saw me before I was born.
Every day of my life was recorded in your book.
Every moment was laid out
before a single day had passed.
17 How precious are your thoughts about me,[b] O God.
They cannot be numbered!
18 I can't even count them;
they outnumber the grains of sand!
And when I wake up,
you are still with me!
19 O God, if only you would destroy the wicked!
Get out of my life, you murderers!
20 They blaspheme you;
your enemies misuse your name.
21 O Lord, shouldn't I hate those who hate you?
Shouldn't I despise those who oppose you?
22 Yes, I hate them with total hatred,
for your enemies are my enemies.
23 Search me, O God, and know my heart;
test me and know my anxious thoughts.
24 Point out anything in me that offends you,
and lead me along the path of everlasting life.
We must put to action what we have learned in this psalm. We must pray and ask God to reveal sin in our lives that is unknown to us. We must accept and admire God's divine knowledge of us and treat it as David did. We must model David's attitude by memorizing the words of Psalm 139 and what they mean for us as Christians. Last, we must share this knowledge with others that think that they are "too bad" or "too good" to come to Jesus.
---
"If you have been tested by temptations and you want to give thanks after successfully enduring such trials, you have Psalm 139.

– Athanasius

Did you enjoy what you have read? Would you like more in-depth devotionals that promote discipleship and equip for Christian leadership? Follow the link for options on how to get your copy of the Africa Study Bible, one of Oasis's greatest and most popular resources.
Below, watch a short film about the Africa Study Bible:
---
Want to share your thoughts on this subject? We'd love to hear from you! Send us your name and message below. Be sure to copy the title of this blog, "Psalm 139 Reflection."
With your help we can continue to satisfy Africa's thirst for God's Word.