A Nation that Reads is a Nation That Prospers
By Dr Tony Akpokene, CEO, Flomat Books
Our theme is "Reading Culture Renaissance".
The reason behind this is that when growing up, we used to read, we had libraries all over. During our primary and secondary school holidays, it was not Netflix we were watching. Television was not a big distraction then. Rather we were competing for the number of books that we had read. I remember we would go to the library in Ring Road, Benin City to read. That was the first time I used an elevator in my life. All kinds of books, geography, literature, just name it [were in the library]. We sat down morning till night reading and enjoying the ambience of books and that helped us. It gave us stability, helped our foundation and look where we are today; citizens of the world, people of repute who can stand on our own because we imbibed the culture of reading.
But over time, because of the dismal focus on education by our leaders, some of them illiterates, they have no regard for education and therefore instead of making adequate allocation of our budget to education they paid lip service to it.
Look at the entertainment industry, it is good, it is going well but people are more in interested in Big brother Nigeria and winning 25 – 30 million Naira and signing big contracts than our daughter who came first in the whole of West Africa, what did she have ? A Governor's hand shake and a paltry 10,000 Naira. Our leaders in the top echelon of this country (politics and business), give so much attention to entertainment and nothing to education.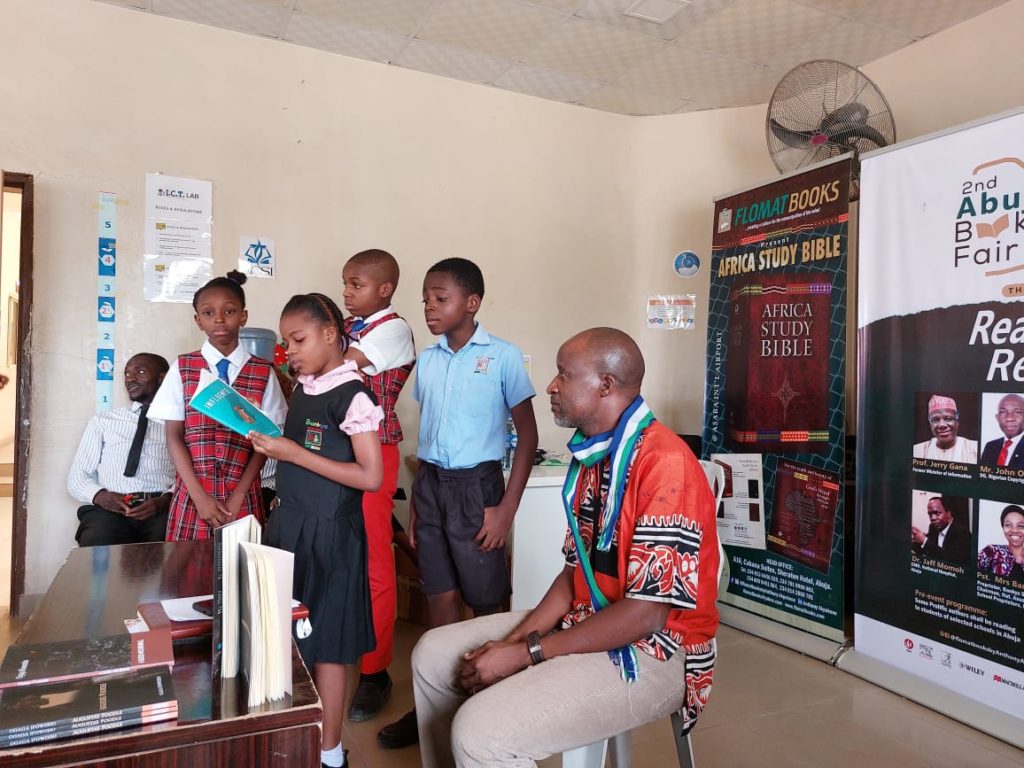 Therefore we want to encourage our children. Sadly the old ones have lost it, but we want to concentrate on the younger ones in primary and secondary schools and see what can still be salvaged. I understand that about 3% of Nigerians population are ardent readers. Well we can start with those 3% gradually we will go to 4% , then we go to10%, 20% and hopefully get to 70%.
A nation that reads is a nation that prospers.
I recall my experience in London, when I went there some years ago. I took a train ride from Oslo going all the way to Picadilly. As I looked I observed that the white people just pick up books from their bag and they are reading. I looked at my left and my right, I saw my Nigerian brothers chatting away in Yoruba and Ibo dialect, all sort of things going on, just gisting and chatting away on a 1 hour 30 minutes train ride . You'll hardly see any Nigerian or African read any book while in transit. You see, this has become our culture. No wonder Dr Myles Munroe said "If you want to hide anything from a black man put it in a book ".
Some time ago there was a protest in South Africa over some issues of discontent with government policies. the protest was hijacked and there was looting that went on all over the place. So many shops were looted but surprisingly not a single book shop was broken into, let alone been looted. That tells you a lot.
In 2006, when I was just about starting my business at Agofure Park in Lagos, I had an interesting experience. The book "Why We Want You Rich" by Donald Trump and Robert Kiyosaki had just come out. I ordered about 100 copies (hard cover). While we were moving the books from the freight forwarder, the carton fell down and broke. Many books were on the floor but I was hurrying to go somewhere else, so I just begged [the feight people] to kindly repack them and I would get them when I got to Warri. I was afraid that some were going to get missing but lo and behold, when I got to Warri, all100 copies came intact. if this had been any other item, you can be sure that there would have been "stories". It was then I knew that in terms of books, Nigerians no go steal your book.
I have an office in Sheraton hotel, in Abuja and I always display books on the verandah in front of my office. People keep saying this is dangerous but I tell them that I have a history of 20 years in this business, nobody steals books, unless your staff who knows the value takes it out and sell, but generally your books are safe. So, I have never had an experience of stolen books in our nearly one year of been in Sheraton.
Furthermore, the amount of energy spent trying to convince a buyer and thereby sell one book is overwhelming but if it's entertainment, you don't spend such time. That shows that there is a problem. There is decadence in terms of reading and this is what we want to correct. There has to be an intervention and I am calling on all policy makers, they should come together, sit down and brainstorm.
How can we change this slope descending trend ?

There must be a way Nations have done it before. We were on the path of ascending before corruption. We stopped paying attention to details and we began to dwindle. You cannot even challenge the government of the day because we don't even know better. Again, a nation that reads is a nation that prospers. I want this country to prosper. I am 60+ years old and most of us have lived almost three quarter of our lives. What legacy are we leaving behind for our children? What legacy am I going to leave for my grandson that I am expecting? What legacy am I leaving? This is my focus, my desire and drive.
Flomat books is poised to face this challenge together with the Book Sellers Association of Nigeria. When we focus our attention on bringing back the reading culture or the reading culture renaissance, things will begin to happen.
Let us inculcate this culture in our wards; let them read a book, set up reading calendars for them; a book in a month, a book in a quarter is something. It will change your life. let this be the preferred alternative to Netflix and Big Brother entertainment. We have fantastic books like "Things Fall Apart", "The Anthills of the Savannah", "The Arrow of God" by Chinua Achebe, we have others by Chimamanda, "Half of a Yellow Sun", "Americana", " Purple Hibiscus", These are the kind of books we should encourage our kids to be reading,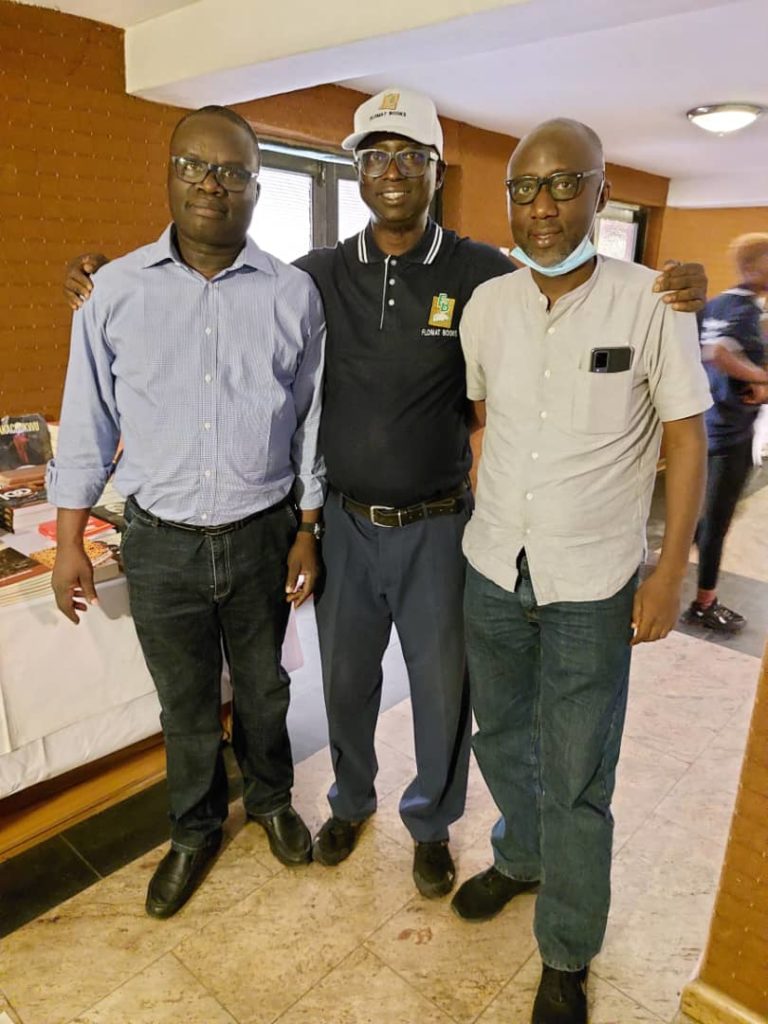 We should begin to have new authors coming every day from our children. I am so happy that some people are already taking it. We have a young poet here who has written a book which we are showcasing and we want to see more of his likes, so that Nigerian potentials will begin to arise again from the dust because our potential has been so battered or injured because of corruption. Our leaders can't be challenged because of lack of education and scholarship among the people of their rights and privileges as citizens. They are afraid to talk because they are not even confident in themselves.
We have to change the course of things. It is the educated people, those that read, that will be able to change the course of the decadence that has bedeviled us in Nigeria. No other person can do it for us.
We have to do it by ourselves. I challenge you to arise and begin to put in your words to your children, grandchildren, that reading is not to be compromised. Reading is indispensable and it is something that we must continue to do. Something that must continue to happen until we see a reversal. It is possible. When God speaks, it comes to pass. You have to continue to speak it so that this trend will be reversed in the name of Jesus.
Let every home have a functioning small library, where you can just come around and pick up a book and read.
---
This is extract from the keynote speech by Engr. Tony Akpokene, CEO, Flomat Books, Nigeria and Convener of the 2nd Abuja Book Fair, held March 31 to April 2022.
---
Want to share your thoughts on this subject? We'd love to hear from you! Send us your name and message below. Be sure to copy the title of this blog, "A Nation that Reads is a Nation That Prospers".
With your help we can continue to satisfy Africa's thirst for God's Word.